WinDaq Add-on ID
7013
Menu Name Appeared under WinDaq->View->Add-ons
OpenOfficeCalcLink
OpenOfficeCalc Link
This Windaq add-on provides a live link between Windaq and OpenOffice.org's Calc by eavesdropping on the data stream in DATAQ's WinDaq acquisition software . Due to its low popularity, OpenOffice Calc is normally installed as a hidden add-on. Please use Windaq Add-on Manager to add it to Windaq's menu if you wish to invoke it from WinDaq Acquisition Software's add-on menu

VB source codes are included to demonstrate how to write a VB program to export data to OpenOffice.Calc directly If you wish to convert the program to Visual Basic 2008 Express Edition (VBX2008), check this out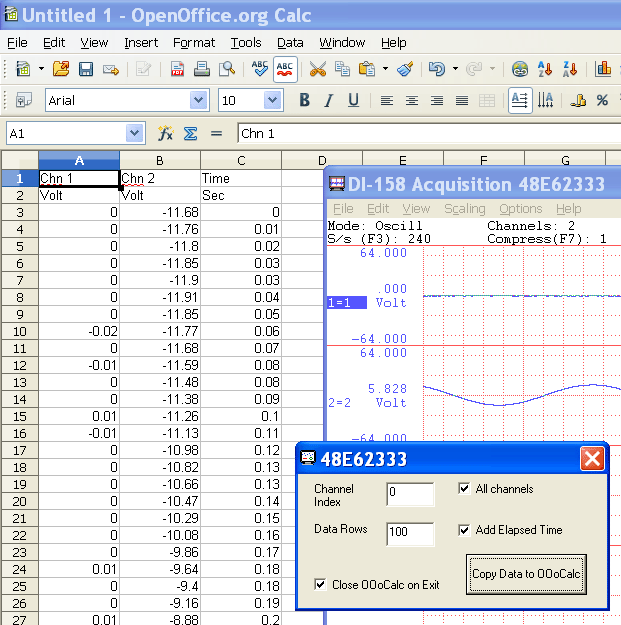 Highlights
Single click sends data directly from Windaq to OpenOffice.org Calc spread sheet

Channel number is a 0-based index to Windaq's scanlist. For example, if Windaq has channel 3,4,6,7 enabled, one can enter 0 for channel 3, 1 for channel 4, 2 for channel 6 and 3 for channel 7.

If data should be entered by events from keyboard, timer or remote storage control, please check out

Time stamp optional

To Use WinDaq Add-ons
Confirm WinDaq 3.16 or higher is installed on your computer

Install WinDaq add-ons.

Start WinDaq, and you will find the WinDaq add-ons integrated into Windaq->View->Add-ons menu (see the screen capture above).

Intelligent Channel Selection: Highlight/Select a channel in WinDaq and fire up the WinDaq add-on you wish, and the WinDaq add-on will use the selected channel as its default channel.

If channel index number is required for a WinDaq add-on, please enter the 0-based index to Windaq's scanlist. For example, if WinDaq has channel 3,4,6,7 enabled, one can enter 0 for channel 3, 1 for channel 4, 2 for channel 6 and 3 for channel 7.

Do not change WinDaq's configurations while WinDaq add-ons are running, or some add-ons may terminate.
Last update: 02/28/22
© www.UltimaSerial.com